Ingredients
225g (8oz) butter (room temperature) or vegetable spread (at least 70% fat), plus extra for greasing
225g (8oz) caster sugar
225g (8oz) self-raising flour
2 level tsp baking powder
4 large eggs
Ingredients for the filling and topping
About 4 tbsp raspberry or strawberry jam
A little caster sugar, for sprinkling
Special equipment required
2 deep 20cm (8in) loose-bottomed, round sandwich tins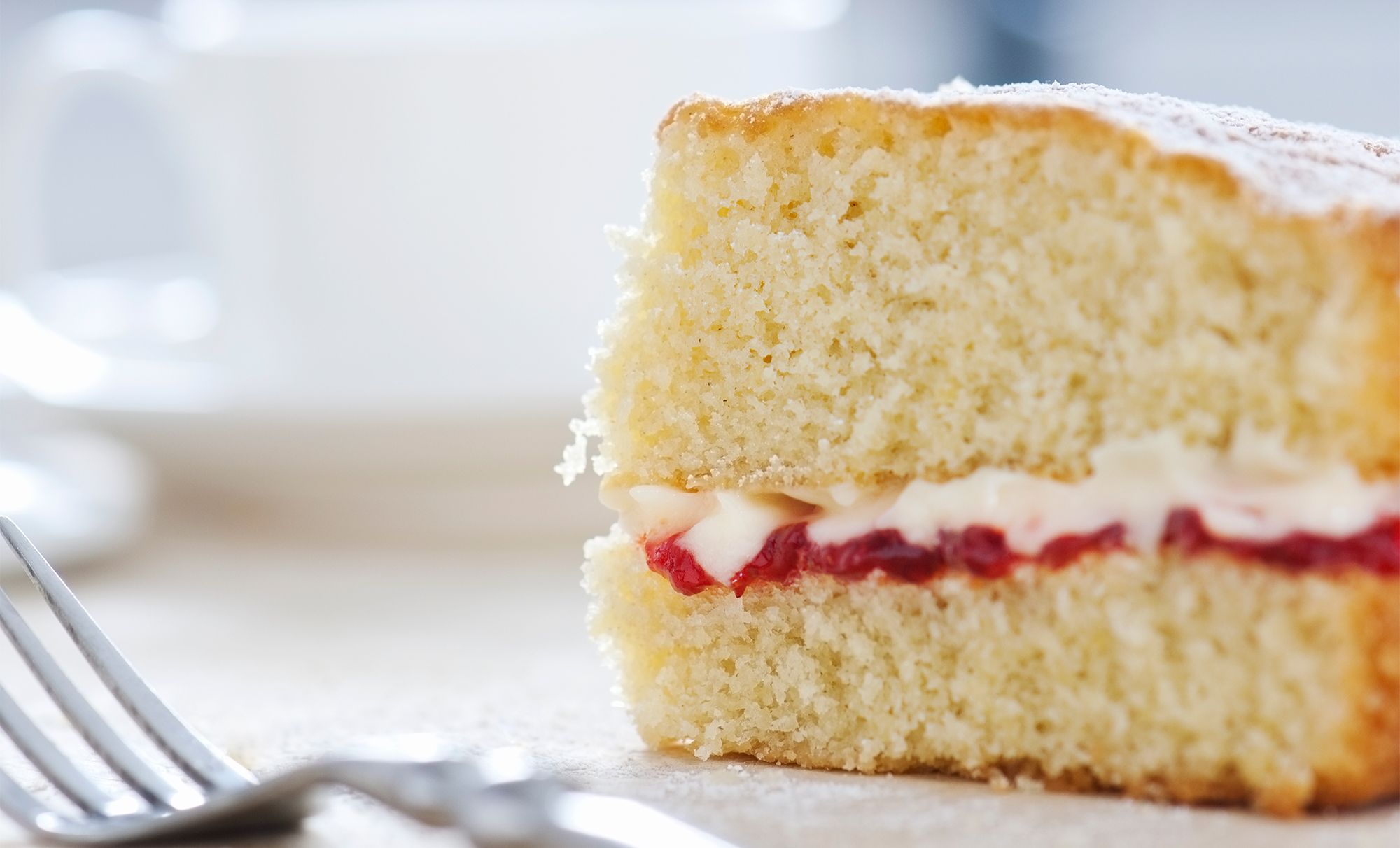 Method
Preheat the oven to 180°C (fan 160°C/350°F/Gas 4).
Cut 2 baking parchment circles, grease the sandwich tins with butter or vegetable spread, and put the circles inside.
Grease the circles.
Place the butter or vegetable spread in a large bowl, then add the caster sugar, self-raising flour, and baking powder.
Crack the eggs one at a time and add to the bowl.
Using the electric mixer on a slow speed, beat for 2 minutes, or until smooth. The mixture will be soft enough to drop off the beaters when you lift them up.
Divide the mixture equally between the prepared cake tins and level the surfaces with a palette knife or spatula, smoothing it over the surface of the two cakes.
Bake both cakes for 20–30 minutes. When done, they will shrink away from the sides and the tops will spring back if pressed. Cool for 2 minutes; loosen the edges with a knife.
After about 10 minutes, push the cakes out of their tins on their bases, invert them onto a thick tea towel, and remove the bases. Cool the cakes the right way up on a rack.
Soften the jam with a palette knife. When the cakes are cold, remove the lining papers and invert one cake layer onto a plate.
Spread with jam, put the other layer on top, and sprinkle with caster sugar.
Storage and freezing
The cake is best eaten on the day of baking, but it will keep in an airtight container for 1–2 days and can be frozen for up to 3 months. Freeze the unfilled layers separately, with the base papers on. Wrap each layer in foil and put in a freezer bag.
Per serving
Calories: 511
Saturated fat: 8g
Unsaturated fat: 17g
Sodium: 513mg
Mary Berry's tips for a successful Victoria sandwich
The tins must be greased evenly, or the cakes will not rise properly.
You can save time by using readycut circles of baking parchment, available from specialist cook shops, department stores, and mail-order companies.
Always use exactly the right amount of baking powder; too much will make the cake dry.
Be careful not to over-mix. You can get a good result with a wooden spoon, but it will take a little longer.
Do not be tempted to open the oven door before 20 minutes, or the cakes will sink, and never overbake, or they will become hard.
Always use a really good-quality jam, and add whipped cream too, if you like.